~ Have you ever been shaken so deeply that it really feels as if time is hanging in the balance? or felt so overwhelmed that breathing is physically painful?
This happened to me through the loss of a dream. The end of my marriage signalled the end of an era. If you had told me as a little girl that I would one day be a
single
mother, I would have
laughed
at you. This was an inconceivable thought. Our little girl dreams see us living happily ever after, right?
BUT, after 15 years of marriage I found myself on the precipice of divorce, an unwilling participant - alone and scared. An alliance of the heart and soul was torn apart, solemn and sacred vows were forsaken. A hallowed union was unceremoniously discarded, abandoned with heartbreaking disillusion, forcing me to walk a path incongruent with everything I believed in and everything I held dear. Shattering hope, faith, love and trust, I teetered on the edge of reason. Swallowed up in an ensuing deluge of duplicity, m
y head screamed its many unspoken thoughts,
"Why me?"
,
"How could my life have come to this?" "How do I go on?"
For as long as I can remember, I have had a heart for missions. I grew up on the stories of Amy Carmichael and Elizabeth Kuhn, women missionaries to remote parts of the earth. I was inspired by great women who refused to be limited by societies prevailing expectations. Oh, how I longed to live that way! As a young girl my family moved to
Hong
Kong and settled with other missionary families in a little fishing village on an Island forty
minutes
out to sea. From a young age my eyes were wide open. I knew there was more to life, so much more and I wanted to be part of it. I grew up longing to be a teacher, desiring to go to far flung countries and experience my very own adventure. I wanted to bring hope to orphans, live purposefully, be the change and make a difference. It never occurred to me that my girlish dreams might be sidetracked by the devastation of divorce.
"How does a single mother ever change the world when her own world is crumbling around her?"
Throughout many difficult years my dreams quietly went to sleep. It hurt too much, seemed too far out of reach, much too
impossible
!
The devastation of divorce is like an out of control fire, burning everything in its way until nothing but ruin and rubble remain. It is fierce and scalding, merciless in its fury.
No longer did I have anything of value, could see nothing of worth -
only a yawning chasm of unspeakable loss, a hopelessness pressed violently against my soul
.
I
n the aftermath of heartbreak and heartache I discovered a gob-smacking revelation - that the death of one thing can lead to the birth of another. I discovered that dying to self can actually bring forth new life. While one dream died another was miraculously resurrected.
D
espite
relentless desolation, life still waits for us all.
After the devastation of a forest fire new life springs forth, in abundance. The
miracle
of new life begins anew. Seeds of hope and purpose long buried, emerge again, ever so slowly. The fire has burnt away the surface layers, but that which lies deep within, hidden below the surface, quietly bides its time. It waits ever so patiently.
While my life had been seemingly sidetracked, the path of life continued to widen before me. I couldn't see it yet, so obscured by emptiness, but life waited. It waited for me just beyond the here and now. I needed to take one step at at time,
sometimes one breath after another! It was in this place that I e
xtended the ashen heap of my life heavenward. I held it up, a simple offering. I waited.
And then, a light pierced the pervading darkness.
In the darkest of hours, in the pit of despair, a light reached out to me. I
n that vile darkness of unspeakable hopelessness, a
great glorious radiant beam of hope opened up unchartered spaces within me. The breath of heaven swept over me.
Like the morning bird singing her pre dawn song, it trilled out a harmony of hope so sweet, so true, it vibrated steadily across withered sinew and bone, calling me to rise again. Its rhythm advanced an incomprehensible anticipation, so ardent in its pursuit that it seemed unbelievable, was unbelievable.
Cutting through that oppressive blanket of heaviness, that gentle breath filled frail humanity.
The oil of joy instead of mourning, a garment of praise instead of despair.
Fragile soul ashes scattered, spilling out, and disappearing forever. A
sweet scent of heavenly purpose delicately enveloped a broken heart, seeping deep into the parched landscape of a desolate soul.
That gentle breeze of expectation began swirling, it began orchestrating a new song.
My heart began expanding, hope forging new trails along the disconsolate and empty terrain. Nothing became something.
Life, full and bountiful opened up, filling and stretching those vacant spaces. Ebullient wisps of hope hung like stars in the night sky, shining like a beacon, directing my heart home.
Heavens breath on hopes and
dreams
, so breathtakingly beautiful - unencumbered, free and fully alive with divine and significant purpose.
A broken
heart and a bare soul
emerged, clothed with
dignity
and
grace
.
A crown of beauty instead of ashes.
A dream awoke from its deep slumber.
~ // * \\ ~
If you find yourself in a place of deep loss, God is with you ... in the darkness, in the deep valley gorge and at the cliff face, He is there. In the depths and darkness of a tomb over 2000 years ago, he was doing his best miracle yet. In the darkness, at deaths door, he was stirring in the confines of an oppressive tomb. He was awakening a soul and bringing forth new life - a resurrected life!
He still does it every day.


© copyright k.weight 2010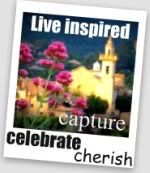 In December 2010 my dream was finally realised.
I made it to Africa,
and visited Baby Watoto, Gulu Children's Village and the Living Hope Project.
This blog continues to tell that story - my heart and soul journey.
A Confident Hope ... found here.
Hope will lead us on ... scribed here.