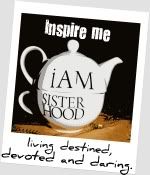 Today I am bringing you an update about the goings on over at 'Sole Hope'.
I recently blogged about this amazing cause and the woman behind the project, a girl with a big heart and expansive dreams to match. For my recent article about Asher please click the following link -
'Inspire me' - Asher Collie
. T
hings have been humming over at Sole Hope this week. They have been working with homeless and rescue shelters around the U.S as they continue to expand their shoe making business in order to change the lives of impoverished and forgotten communities around the world.
With the purchase of these cute baby shoes below, lives are being changed. Proceeds support and protect the little feet of children in Africa and help an adult rise above poverty. Shoes will be available online very soon.
Sole Hope Mission - to provide HOPE for widows, orphans and others in impoverished and forgotten communities around the world through the trade of shoemaking.
Docica magazines
most recent issue is out now and a must read if you want to
be inspired
by everyday girls bringing hope, purpose and destiny to their sphere of the world. In it you will find more about the
Sole Hope
project,
Nelson Mandela
and our lovely
earrings
(they

also made it into last weeks issue - see past issues). So very exciting!
Check out this great magazine
here
.