So excited to be launching 'Inspire me' ... learning to live inspired.
'Inspire me' is an invitation to gather with girls across the earth living their lives destined, devoted and daring. This is me learning to live inspired by the every day. It is about celebrating the ordinary and extraordinary moments along the way. How are you doing life?....What words of wisdom can you offer a girl in your world? Inspire us with your life.
We will blog it, create it, photograph it, montage it, sketch it, paint it, make it, bake it..... heart it.
*
Destined - Being purposeful, certain and intentional.
Share with us the sacred, divine and significant moments of your life - that part of your life set apart for a particular purpose and intent.....those unavoidable and inescapable truths of eternity. What are your revelations or your 'ah ha' moments?
*
Devoted - Being dedicated, ardent and steadfast.
Tell us what you devote your life to ...Is it motherhood, a passion or a particular interest? What did you dedicate your self to? How do you hope to work towards this? What are your struggles? How are you outworking this day to day? Tell us your hopes for the future....the longings in your heart...the ordinary and the everyday...the big things, the little things, the mundane and even the craziness of your amazing and devoted life.
*
Daring - Being audacious, fearless and brave.
We want to hear how you are courageous, impulsive, reckless or bold. What fearless and brave adventure did you embark upon. Share with us the journey you hope to commence? Did you face a fear, challenge a mind set, lift the lid on self imposed restrictions or even jump out of an aeroplane?
"S
ing like no one's listening, love like you've never been hurt, dance like nobody's watching and live like its heaven on earth." - Mark Twain.
We have a great line up of girls contributing to the 'Inspire me' series so come back all week to be inspired for the journey ahead.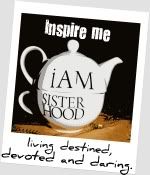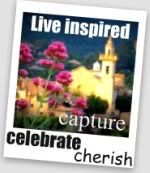 Link to the 'Inspire Me' series.