Welcome to 'Inspire me' week......a whole week devoted to celebrating the lives of inspiring woman, daughters, wives, mothers, sisters and friends. Each day we will be posting the stories and journeys of every day girls living full, vibrant and effervescent lives. At the end of the week we will be opening the 'Inspire me' linky for the weekly link up. You can also link up NOW with the 'Inspire me' directory and become part of a gathering of girls celebrating the ordinary moments of life in extraordinary ways.....every day girls living destined, devoted and daring.
Today I am sharing my story over at Indulge eMagazine.
Indulge eMagazine desires to see women become 'whole - spirit, soul and body'. Our Heavenly Father longs for us to be indulged (enjoying the pleasure of) His extraordinary love. In this story I share my heart, my heartache and my hope. At the end of this week
I hope you feel inspired :)
.......embrace your dreams with arms open wide.
This is my story at Indulge eMagazine
. (

Click on past issues and go to the May issue.)

Check
here
for the great line up of inspiring girls contributing to this event. So join in the fun....share it, blog it....tell the world about your beautiful devoted life...capture, celebrate and cherish every moment with us.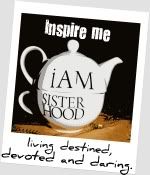 'Inspire me' series

(Click this link)