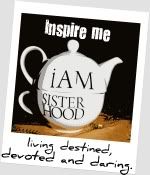 Today for 'Inspire me' I wanted to give room to honour a few beautiful and beloved individuals, people who really do inspire me beyond words. Wonderful, warm and caring girls who live life graciously, valiantly and bravely... who in varying seasons of life and despite their circumstances and struggles of ill health, a bitter divorce, a lost job, no baby, an empty home or an absent Dad are facing life's adversity with great courage. The storms of life have blown fierce and strong but still they remain rooted and grounded. Arising from the midst of heartache they smile at the future.
You too may know this girl! The one who stands resolute, face turned towards the sunrise, her eye focused on the future.... she embraces the new dawn with expectation and hauls herself over each new obstacle in her path refusing to give up or quit. She may be your mother, a sister, a daughter, a friend or perhaps she may even be you!
Today I was inspired by your courage, tenacity and grace
So brave of you to stand so tall .. a smile upon your face
For I glimpsed a light inside of you - it shone so brilliantly
Thou the way has been quite rough - you live life valiantly
The storm did not contain you nor did it keep you small
I saw a girl who walked with hope - A girl who gave it all
A girl embracing all her dreams
A life of purpose it would seem
So my friend, I cheer you on and love all that I see
For I know your heart is well and you are truly free.
© Copyright k.weight 2011