Watoto is a cause very close to my heart and today for 'Inspire me' I am bringing an update from that part of the world. In December of last year I volunteered at their babies home in Kampala in the heart of Uganda and was forever changed. I am so inspired by the heart of people to impact and change the world of the orphan and the widow and am especially stirred for the people of Africa. One day I hope to return.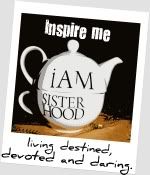 Between January and April 2011, Watoto babies home welcomed 59 babies into the Watoto family through their
Baby Watoto
program. It is hard to imagine that this many babies have been left abandoned at places like radio stations, golf courses, under trees and at the local hospital and market places.
Image Source at
Watoto
New bubs have been coming non-stop, with almost one baby each day. The majority of the babies are premature, malnourished or with serious medical complications which is often the result of little or no neo-natal care and no birth provisions. So many of these bubs have not been born in a hospital.
By the end of April, 144 babies were being cared for at all three facilities in Kampala, Suubi and Gulu.
How sweet is the jubilation in this photo?
The children are planning ways to show appreciation to their house Momma who has embraced them into the love and safety of a new home. Mother's day is a big deal at the children's home with a lot of celebrating going on. There is a lot to be thankful for. These children now have a loving and caring family to take care of them in the surroundings of a beauitful Watoto village.
Click here for a Baby Watoto
Nanny story
- an everyday girl changing her world.
For my adventures at Watoto, click
here
Do you have a cause close to your heart?
How do you change your world?
If you could do anything...what would you do?
Sharing from the heart brings healing for the soul.
Share your heart, your hopes and your dreams.