Fluttering Humanity
We spend our lives trying to fit in, be accepted, play by the rules and do the right thing and yet over time our dreams can seem more elusive leaving us feeling alone, dejected or empty. As the years pass the gap between reality and possibility widens, or so it seems. Fears creep in and we feel thwarted at every turn. Doubts whisper more persistently ... the world tightens around us. The distance between hopes and dreams seems insurmountable. Talents, skills and abilities have been discarded becoming a faded memory. We may have buried what makes us unique, individual and altogether lovely under a pile of societal expectations, family pressures or life's adversities.
The freedom to be our unique selves has escaped us as we are s
wept up in the day to day business of life and the various roles we play as wife, mother, lover, confidante, nutritionist, disciplinarian and so on. Life can become defined by what we do instead of by who we are.
However
We get to play an irreplaceable role in our own lives. Unlike a play or performance, no one can play our part as well as we can. The world is our stage and an understudy just Will NOT DO! This is not a dress rehearsal. This is it! We have this time, this moment in history to be all that we were created to be.
Fly free - my art @ A Soul Soiree
I can just imagine the details of our lives being scripted with minute exactness, deftly written within the throne room of heaven. Discussed in hushed tones throughout the hallways of heaven as angels come and go, sneaking a peek at the masters plans as the vastness of eternity echoes in the distance. The air is alive with electric undercurrents as hope is forged, destinies formed and lives purposed. Limitless potential is carefully wrapped within our frail humanity and embedded deep within our core. The seeds of purpose and destiny sown in anticipation. Who are we then to question the validity of such a master plan? Who are we to allow such potential to go unmet? If we could but see from heavens perspective - our life divinely appointed for a time such as this!
We who are divinely designed, artistically crafted and so irresistibly delightful to the core, truly are altogether lovely!
So my beautiful friend, dig deep into your heart and soul and unearth what makes you unique, individual and altogether lovely. Allow the breath of heaven to do its work through you and in you today.
my art @
A Soul Soiree
join us @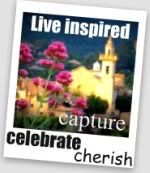 and linking up with